Hyper-growth companies like Miro, Slack, and Figma seem to have found a recipe that gives them tremendous growth. And that without a sales army, long sales cycles and costly demos.
They use a Product-led growth (PLG) motion. Easy access to the product, freemium and excellent user experience during testing and onboarding are supposed to renew the go-to-market.
PLG fans talk about the "old way to sell" and the "new way to sell". What many forget is that not every SaaS product is a simple collaboration tool like Slack. And Slack is generating a big portion of its revenue with enterprise accounts using sales teams.
The Fifty Shades of Grey between Sales-led and Product-led Growth
What about enterprise software and growth models? Does it always have to be top-down sales-led? How is product-led supposed to work with complex products?
The right answer is "and" instead of "or" – marketing and sales and product-led. If we take a look behind the scenes at Miro & Co. we see exactly that–hybrid go-to-market models.
In this article, I show how startups in enterprise software and high-tech products can combine classic marketing-led and sales-led strategies with the product-led growth motion. As in an investment portfolio, each company can define the mix of marketing, product, and sales-led depending on the product and the target audience.
Why selling enterprise software is not "product-led" out of the box…
B2B enterprise software and emerging tech solutions have different growth mechanisms than collaboration tools like Slack and Miro. PLG levers do not work to the same extent when there are separate buyers and users, the complexity of the products does not allow self-serve.
Let's just imagine we would download and install Salesforce ourselves. The frustration would probably be great even though Salesforce has excellent products. Here is a list of differences in the enterprise world:
High complexity in the product with the risk that users do not see the value quickly enough during installation or onboarding. Requires hand-holding and personal guidance.
Tech products target specific user groups with existing domain knowledge requiring a steep learning curve.
Manufactured and environmental triggers as part of the growth loops in the product might target users but not decision-makers.
Viral growth across individuals is different from viral growth across company users which has an impact on using collaboration as growth fuel.
Bottom-up approaches targeting users and teams have limited reach when it comes to enterprises and their processes (RFQs, proposals, contract negotiations).
Enterprise products often need content (data, visual models) to get started with a new product. This can be a blocker to test the product easily.
Network effects do not have the same impact if products are only used by specific users and teams compared to collaboration or B2C products.
Enterprise buyers and committees often ask for sales/product/customer success touchpoints instead of searching on their own for the relevant information.
HubSpot launched its CRM software with sales-led and marketing-led (inbound marketing) growth models and is now adding elements from the PLG Toolbox. Free tools, freemium model, self-serve onboarding to get started are a few examples.
Combining different growth motions from the beginning makes it easier for teams to build models evenly to scale. Those who start with product-led and later add enterprise sales and marketing face the challenge of new structures and processes.
…but a Product-led Growth mindset improves product experience and reduces friction
Even if the go-to-market for complex enterprise software and high tech products is not primarily based on PLG, the good news is that the idea behind it can be used along the complete customer journey to strengthen the focus on a 10x product experience and less friction.
The idea of designing the product so that it can be quickly tested and adopted by users instead of going through long implementation and onboarding processes are beneficial. If it is clear early on whether the product fits the requirements, then unnecessary effort and frustration are avoided on both sides.
Let's have a look at how the product experience focus of product-led growth impacts acquisition, retention and monetization.
Acquisition
Product-led growth models provide startups with a new acquisition channel and different opportunities to qualify leads more easily than what we usually do in marketing and sales with MQLs and SQLs.
Product Qualified Leads (PQL) have seen the product and bring more meaning to the pipeline.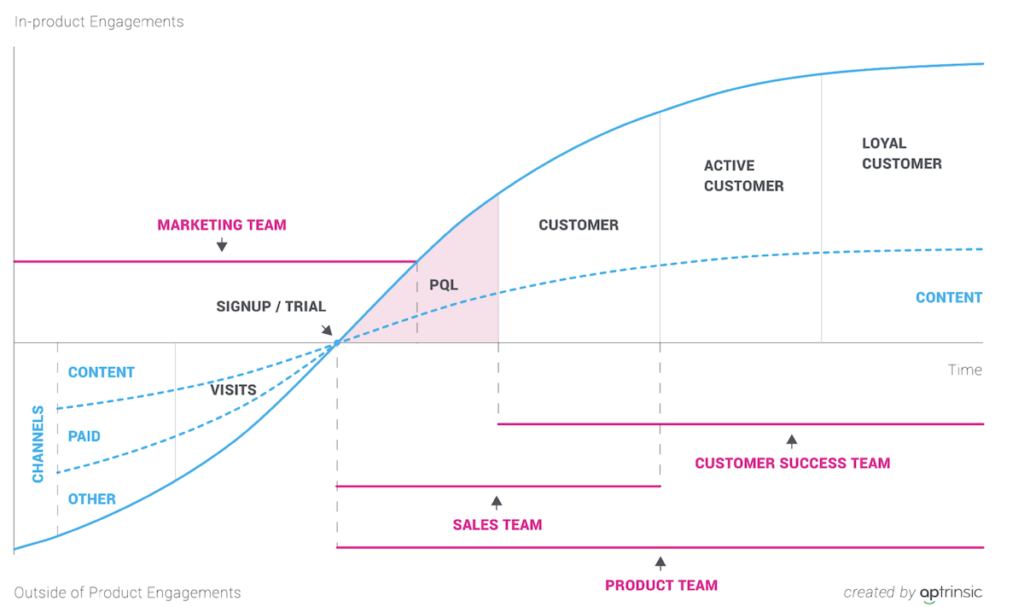 Instead of useless discussions about the quality of leads, PQLs offer the advantage of defining measurable KPIs of what a potential customer needs to achieve, for example, in the trial phase to be qualified. This can be measured on a time-dependent basis and on the features used or on the outcome. PQLs have a higher significance in the pipeline compared to MQLs.
In the product-led approach, the customer lifecycle shifts more into the elevated axis area where product behavior becomes essential in guiding users and customers through the lifecycle. In fact, sales, marketing, product, and customer success can call upon product usage data to efficiently move prospects through the customer acquisition process.

—Mickey Alon, Co-Founder Gainsight PX
Enterprise software buyers have different profiles and can be targeted from sales, marketing and product side. Besides the different personas, I group them into 3 buckets:
Global buyers (e.g. IT, Procurement) prefer to contact sales teams to clarify individual details and negotiate contracts,
Business buyers (often but not always in leading positions such as Head of Service, VP Training) know their need and prefer to get the information via website or webinars,
Team buyers

(actual users and team leads) with prior knowledge and clear expectations about how the product should be used are looking for fast testing and understanding of the product experience.
Self-serve ingredients such as trials and product-led models with early access to the product or at least realistic simulations that let the product speak for itself are helpful for buyers in the third bucket.
Retention
Onboarding is no longer just a checkmark. If you put the PLG hat on onboarding becomes an important component for user activation, high retention rates, and thus the basis for more expansion revenue.
Email software startup Superhuman uses personalized onboarding to ensure users take advantage of all the important features and see the value of the tool. The story of Superhuman CEO Rahul Vohra, who did the onboarding himself in the beginning, quickly made its way to TechCrunch and Twitter. The result is a very high retention and at the same time impact on acquisition through word-of-mouth.
User activation through habit formation is the key to avoiding churn and increasing expansion. In complex enterprise software solutions we mostly talk to the buyers, IT and procurement. In the end, the users decide whether to use our software instead of the existing solution or that of a competitor.

If we succeed in changing the users' habits, we see a steep increase in user activation, which results in expansion. Shaping user habits happens most directly in the product, less triggered by sales influence.
Collaboration is the fuel for rapid growth because it ensures that more users from different teams work with our tool and we expand this way within an account.
Monetization

The monetization model is about how customers can be monetized. Which product features are considered valuable, what do customers pay for and how much.
In the enterprise software market, you often hear from the sales side that self-serve approaches or freemium models would lead to cannibalization. For me, this is not an objection but a pretext. Companies like HubSpot have shown that different models can exist in parallel without interfering with each other.
Sales approaches in the go-to-market plan depend on product and buyer/user behavior. This may change over time as the product is used by different target groups:
Self-serve: No touch, product is key, mainly for smaller businesses or teams
Bottoms-up: Product is in the lead, sales drives expansion, focus on mid-market
Sales-assisted: Sales and

marketing

are in the drivers seat,

product helps

qualifying, mainly for enterprise

Top-down: Sales-driven and buyer-oriented, large enterprises
While the product-led approach predominates in self-serve and bottoms-up and the product team plays a leading role, the focus shifts to classic sales models in sales-assisted and top-down.

Product-led monetization models offer new opportunities for enterprise software:
Freemium: Free basic version of the software, Paid Plans for more users, usage, features or special target groups.
Free Trial: Time-limited possibility to test the product, afterwards paid license
Build your Hybrid Go-to-Market and Growth Portfolio
We come back to my statement at the beginning of the article: "and" instead of "or". Mix and match, layer, and sequence the growth motions I explained above! You can be marketing-led in acquisition; product- and sales-led in monetization; and product-led in retention.
Start building a hybrid model and have product, marketing and enterprise sales supporting each other
Check where the different approaches make most sense in your acquisition, retention and monetization
Use the product-led growth mindset to improve product demo and onboarding
Add collaboration to your product to

fuel

growth from within the product

Use customer-built examples as templates for a low entry barrier of new users
Make sure you establish user habits to achieve high retention and expansion
Create a culture where sales, marketing, product and customer success teams

thinning

about why their customers love their products
Below you can see an example of a growth model with acquisition, retention and monetization (Thanks to Elena Verna for sharing).
It is important to understand that the initial growth model is a hypothesis with assumptions that are yet to be proven. Your team's first order of business will be to learn about the validity of the assumptions.

—Elena Verna, Growth Advisor
Depending on the product category and market, different growth portfolios can be formed. The portfolios shown below are samples for typical oftware categories. The more complexity in the product and in the implementation the more personal hand-holding is required. The portfolios can be customized for different segments and differ in acquisition, retention and monetization.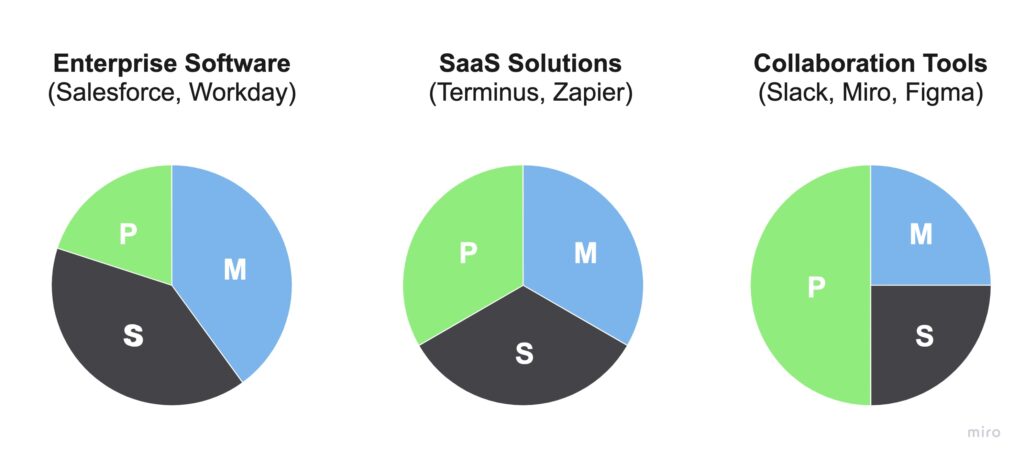 The mix changes over time depending on targeting. For example, Miro and Slack started with a strong product-led focus and have since shifted their portfolios by building enterprise sales teams.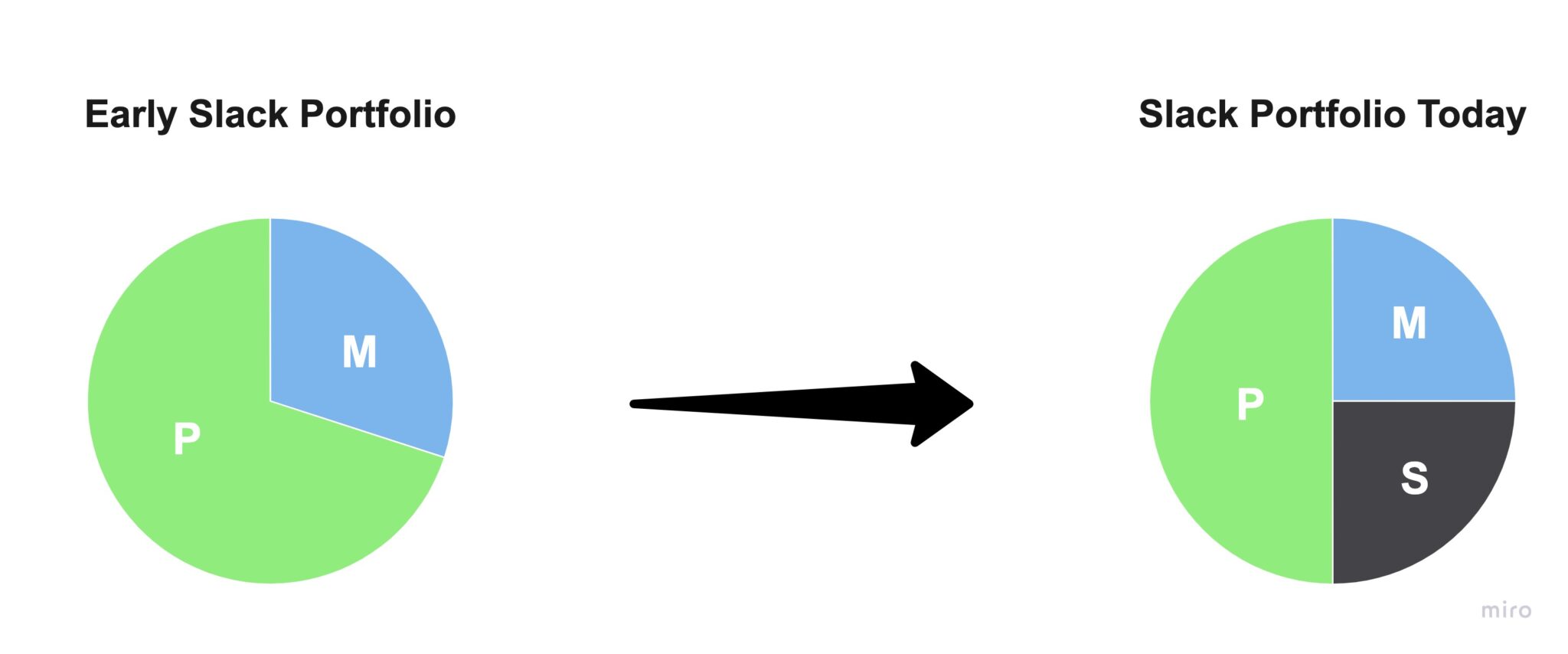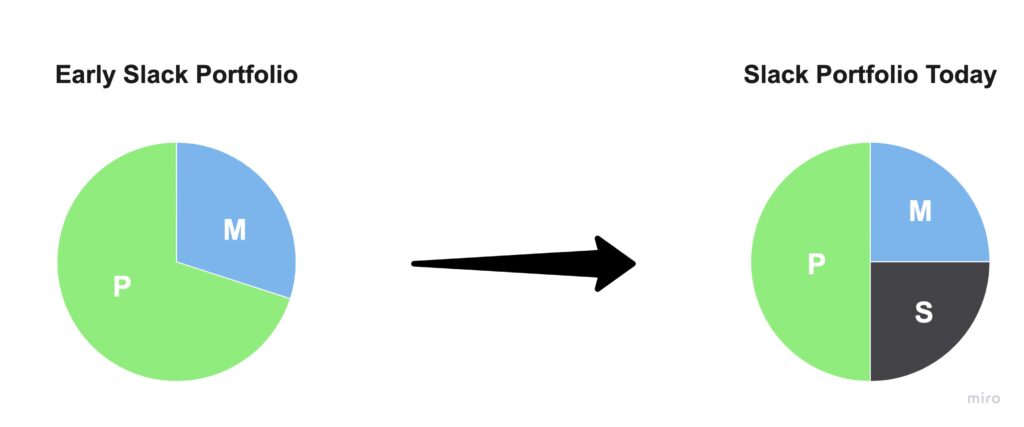 An important aspect besides building the portfolio is to align the teams from Marketing, Sales, Customer Success and Product. Where classic top-down models have been the standard so far, product-led approaches seem strange. The mindset and openness to learn and improve is essential to build a successful growth portfolio.
Helpful Articles
Follow me on LinkedIn and Twitter.
Dirk Schart is CMO of the No. 1 Enterprise AR startup RE'FLEKT. He is a brand and growth leader and focuses on bringing B2B software and SaaS products to market —from zero to hero. Dirk is the former Director of SaaS Products at HyperloopTT, and helped scale SkyWork from 30 to 200+ in less than 18 months. He mentors startups at the German Accelerator in Silicon Valley and is the author of "Augmented and Mixed Reality for Marketing".