This article is co-written by Viktor Sinzig (Director Customer Success & Program Management at OSARO, former VP CS at REFLEKT) and Dirk Schart (Chief Marketing Officer at REFLEKT). We are sharing our learnings from building the "Value Realization Framework" for expansion and retention to grow REFLEKT's business in the US market.
---
All new technology solutions face the same challenges: education, adoption, expansion. Companies are in hyper-competitive markets where they must make the right decision about innovations and new solutions for their teams. Software vendors—and especially startups—on the other hand, must show the value of their offerings and build a 10x better product experience to compete and scale customers rapidly.
In this article, we show how startups can build a successful adoption and expansion framework by aligning customer success and marketing teams. We built the "Value Realization Framework" to grow the US business for REFLEKT—an Enterprise Augmented Reality startup building the workplace of the future.
The framework helped us to achieve:
Higher customer satisfaction across the customer base
Churn reduced to 0% among Tier 1 customers (> $100,000 ARPA)
120% Net Revenue Retention Rate (NRR)
Brand impact through customers sharing the success and user feedback
Reduce friction in onboarding and adoption phases
Customer advocacy with joint marketing activities
When Emerging Tech Meets User Adoption
Companies need to understand how innovation and new technologies improve their processes. Many times, organizations are not aware that there is a solution to their problem. Think about "Crossing the Chasm": In the early days, companies want to explore tech but beyond the chasm, pragmatic buyers are waiting for a solution "ready-to-use." Tech startups want happy customers and users, increasing revenue, and customers who talk about their achievements and success.
For startups and vendors, this means investing in education, hand-holding and customer advocacy. At the same time, it requires a 10x better product experience from the first touchpoint with the solution to internal and external recommendation and rating. Startups can accelerate value realization by using our framework (download the slides at the end of the article) and aligning marketing, customer success and sales with product.
"Enterprises have long adoption cycles and many different stakeholders. Introducing a new solution or technology needs an aligned approach that guides the teams along the journey. Vendors must understand how we decide on new tech, how we purchase, and how we use it. The framework helped us to implement Augmented Reality for training faster than we expected which saves us time and money. I am glad that I could support Viktor and Dirk in building the framework with my knowledge and experience of implementing several new technologies in the last 20 years."

William Harding, Technical Fellow for Advanced Technologies at Medtronic
Our Journey Building the Value Realization Framework
Several core elements consistently exemplify the importance of adopting a strong customer success and customer advocacy framework and team. We've built this at REFLEKT, and we will highlight examples of how companies can demonstrate a customer-centric approach, thus proving value for the customer and achieving results for the customer and software/service provider.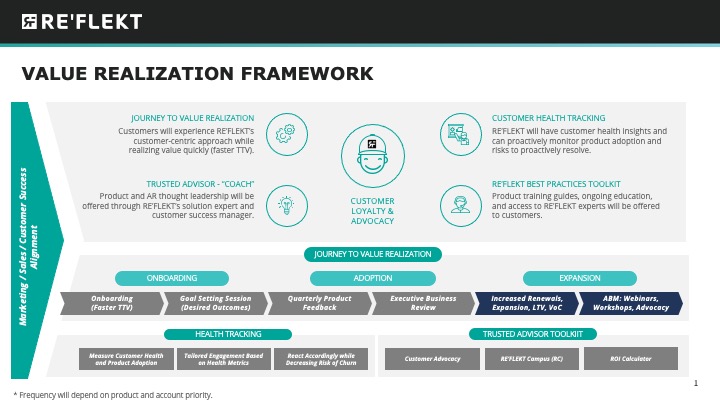 Proceeding with a new technology offering presents risks, especially if it's a new offering that hasn't been tried and tested. Technology decision-makers will tend to ask questions such as:
Will our employees adopt this new technology?
How do I sell this technology to our leadership team to obtain the required budget?
Will I see an ROI?
How can we show the benefit to our customers?
Ultimately, most business leaders will want to see value in a short amount of time (TTV).
Let's have a look at what startups and software providers ask:
Will the teams use our solution on a daily/weekly basis and adopt the new tech?
How can we make sure that our customers renew and expand their contracts?
Will our stakeholders (management and users) recommend our solution?
How can we use the success and win new customers?
The 5 Phases of the Value Realization Framework
When focusing on value creation, this can be categorized into five phases:
Onboarding
Adoption
Advocacy
Expansion
Health Tracking
1. Onboarding of New Tech Users
Ultimately, onboarding is what sets a technology or project up for success. It is a core element to build a 10x product experience. Understanding the pain points that you're looking to solve will set the direction of the relationship. After identifying the pain points, setting up the acceptance criteria "guiding principles" as part of the success plan from the start of the project will support with providing direction. We've included examples of a theoretical company, "ACME".
Pain Point: ACME organization is a manufacturing organization that experiences high manufacturing engineer turnover—the trainers are fully utilized and the training guides are all paper-based instructions. This results in lengthy training time, increased error and high risk of lost tribal knowledge.
Guiding Principle: ACME would like to train their employees faster, so they would like to see at least a 50% reduction in training time and a reduction in trainer involvement. ACME would also like to reduce their new hire operators' time to proficiency and decrease production error rates.
Solution: The onboarding started much earlier than the actual roll-out. By involving buyers, technical experts, trainers and the users, we identified their different expectations and perspectives. Through workshops and webinars we offered a personalized experience and covered audience-specific topics.
2. Tech Adoption
Project success should be monitored on a regular basis and covered with close project stakeholder alignment on a quarterly or semi-annual basis. Executive Business Reviews (EBRs) will help organizations realize the success of new technology—achieving the North Star goals and guiding principles established in the onboarding phase will now become the key drivers for a successful customer/partner relationship.
Decision-makers will likely request evidence that a product is worth the additional investment, and data will inform the decision-making process on whether it makes sense to renew or expand. Building a customer-specific dashboard can be very helpful for the customer and the vendor to communicate success.
To maintain close alignment with your stakeholders, it's important to monitor the technology's value to the organization, and constantly measure the Voice of Customer (VoC) feedback for product improvement areas. Some of the topics covered in an effective EBR session will include highlighting ROI metrics, discussing health and improvement areas, and setting goals for the next quarter/EBR.
3. Customer Advocacy
As a startup, we appreciate it when our customers talk about their positive experiences, recommend us and leave reviews that are similar to those on Amazon. Trust and credibility are two of the most important metrics for tech startups—especially when they are in the enterprise space. Customers also benefit from the results when they can present them to their own management or customers.
As mentioned at the beginning, we focus on creating a 10x product experience. To combine product experience and customer advocacy we have introduced User Acceptance Testings (UATs). We have a predefined process that we can adapt to different customers and segments. We test our solution in different states and share the feedback within the involved teams.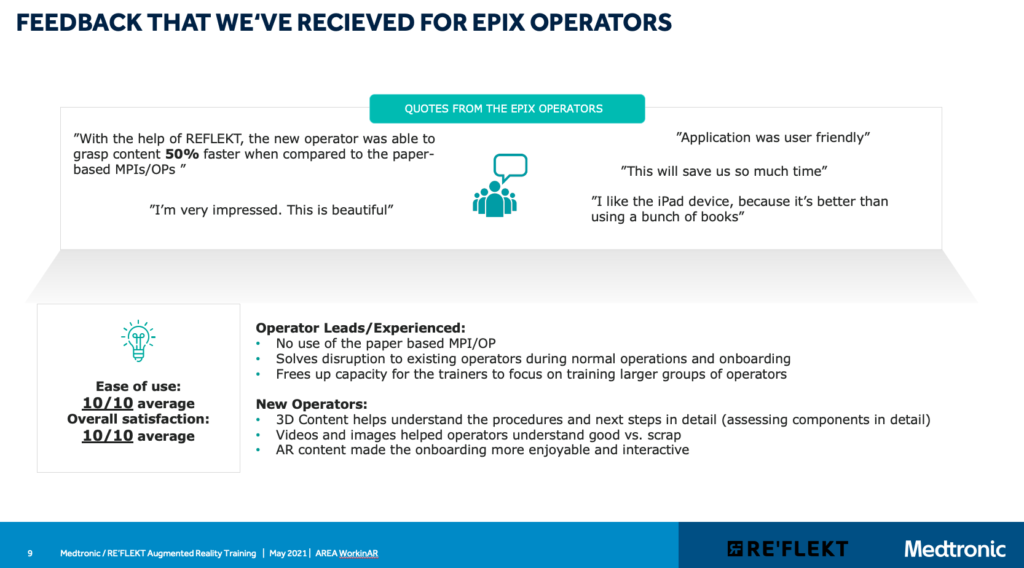 The feedback is incorporated into reporting as well as webinars and other marketing materials. The example in the image below shows the Voice of the Customer in form of user feedback and ratings from one of our customers. The UATs are the foundation for our Account-based Marketing (ABM) programs to retain and expand customers, and to win new logos.
4. Customer Expansion
At this point, you will have shown to the customer that your technology has met the stated guiding principles in the onboarding phase, and it's likely that the customer won't flinch at renewing or expanding, since the technology has proven itself. You will also build strong advocates and promoters to support with spreading the word, so it's crucial to take this success and apply it to other business units and customers.
We started using an Account-based Marketing (ABM) model that focuses on retention and expansion. The ABM approach consists of a segmentation (1-to-1, 1-to-few, 1-to-many) and uses dedicated landing pages, webinars and user sessions based on what fits best for the company. This allowed us to build a personalized but scalable and repeatable framework.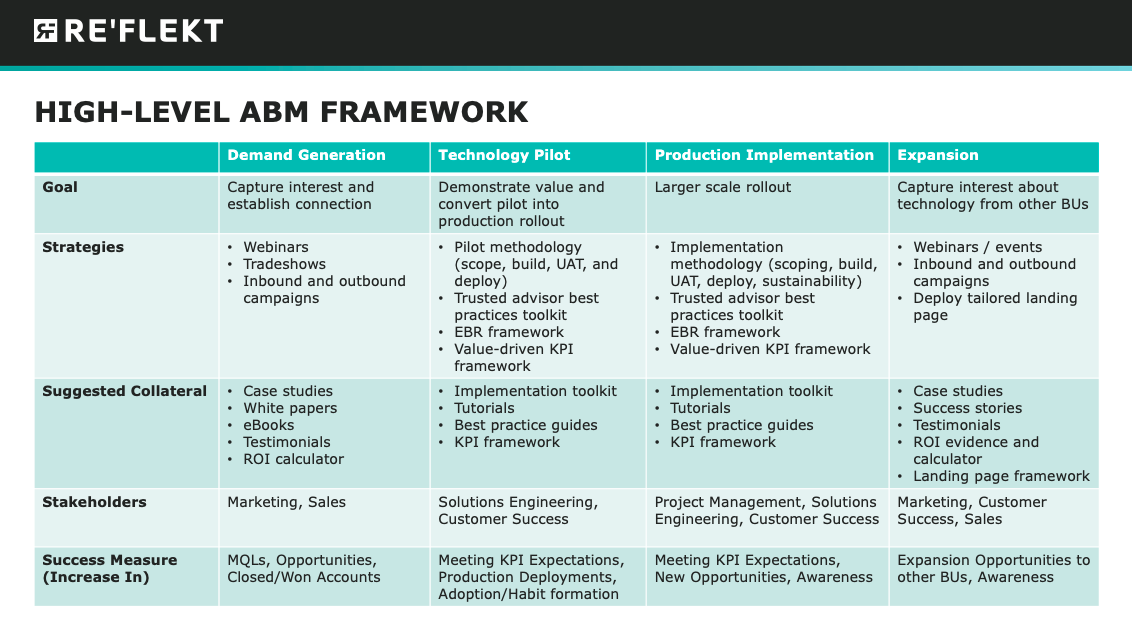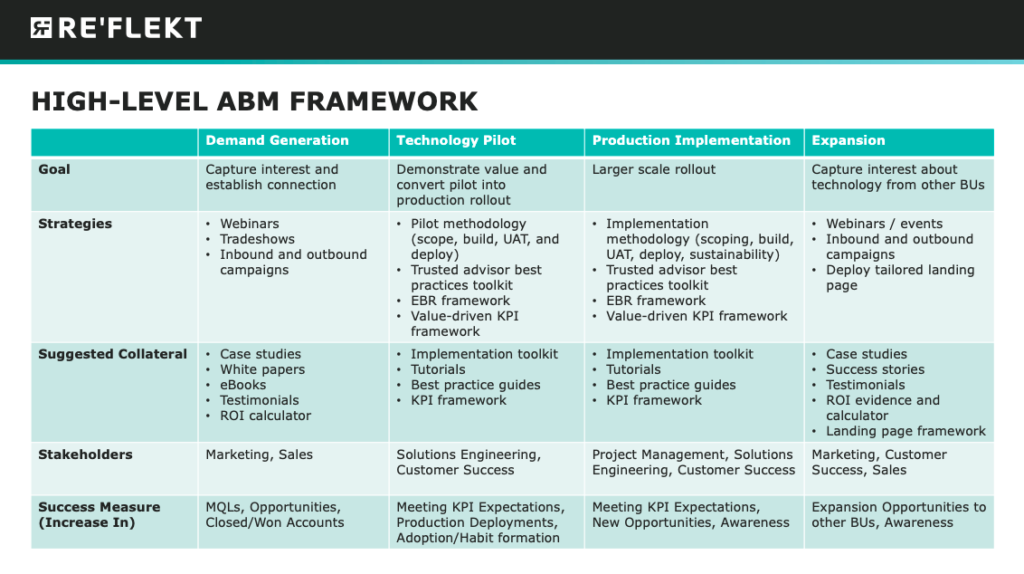 Our ABM program supports with expansion throughout organizations and this will often open opportunities to support with alleviating other business units' pain points. In the image below, you can see the simplified version of our Adoption-ABM framework that can be leveraged for this process. Meanwhile, you've increased your renewal rate, Customer Lifetime Value (CLV), developed tangible case studies and obtained strong VoC feedback.
5. Customer Health Tracking
Throughout the value creation process, collecting accurate customer health tracking metrics is the backbone of ensuring value is being met and promoting advocates. This provides a company with the tools to measure, engage, and react. Without these fundamental elements, organizations will struggle from not being able to drill down to the metrics required to react accordingly and minimize the risk of churn.
Measure: Making strategic decisions is impossible without being able to measure success through a data-driven approach. An example of this is obtaining VoC survey feedback to collect product feedback—closing the feedback loop and letting your customers support with product innovation is what will set you apart from competitors. Other customer-driven metrics include monthly active users (MAU), trial conversions, and Net Promoter Score (NPS).
Engage: When you've established the success metrics, you can now monitor and engage with your customers in a way that is tailored to their needs. Most customers should also have a success plan, and proactive and tailored engagement is one of the key pillars for this plan—consider segmenting your customers in high/medium/low touch groups to reduce bandwidth issues, since managing a high touch frequency with all of your customers can become unwieldy.
React: This is what makes tracking customer health metrics so powerful—you can target and react while reducing churn risk. The ultimate goal is to drive value and make your end users' lives easier, so if you see that your customers aren't meeting some of the pre-defined measurement criteria, such as trial conversions, you can engage with your customers and understand the root cause. Let's take trial conversions as an example—if trial conversions are weak, then you might want to consider analyzing your trial period and/or whether your customers are understanding the product and overall value in that period. It could be that the product demonstration is too complicated? Ultimately, each measurement criterion should map to an engagement and reaction model to promote adoption and reduce the risk of churn.
Scaling Customers as Trusted Advisors
Part of the responsibility for the customer success and solutions engineering team is to act as a "trusted advisor" and share our "best practices" of adopting a specific technology. We've adopted a model where our teams will guide our customers through the process of adoption, and act as a "coach" as part of the implementation process – we are the experts in our technology and customers' verticals, so it's key that we guide our customers through the adoption process.
In addition to providing a customer-centric onboarding experience, we're also building a community (REFLEKT Campus) where customers can engage with our product experts and pose questions to other experts in the REFLEKT ecosystem. This is also a great place for our product team to gather feedback from our members in Campus, and provides an excellent source of information.
Tech adoption is not just a topic for one team. Tech adoption needs alignment between product, sales, customer success and marketing. The Value Realization Framework helps REFLEKT to achieve high retention rates and to expand customers while driving joint marketing activities.
Download the Value Realization Framework slides.
---
Follow me on LinkedIn and Twitter.
Dirk Schart is CMO of the No. 1 Enterprise AR startup RE'FLEKT. He is a brand and growth leader and focuses on bringing B2B software and SaaS products to market —from zero to hero. Dirk is the former Director of SaaS Products at HyperloopTT, and helped scale SkyWork from 30 to 200+ in less than 18 months. He mentors startups at the German Accelerator in Silicon Valley and is the author of "Augmented and Mixed Reality for Marketing".