This article is co-written by my co-worker and friend Harry Hulme and myself. We are sharing our learnings from building the RE'LEASE cadence at our previous startup RE'FLEKT. Building the RE'LEASE cadence was a team effort supported by the whole RE'FLEKT management and team.
---
Your customers want to hear news about your product, your sales teams are eager to show their prospects new features, analysts and media are judging your growth by product launches. So far so good. 
Here is the reality: Marketing is planning the big launch party, Product and Engineering are annoyed because it doesn't fit into the development plan, Sales has already sold what is not yet developed, and in the end everyone is frustrated. Does this sound familiar?
Okay, the good news is that there is a tried and tested solution for this. Read on to find out how to build a product release cadence and align your teams:
The goal is to create a clear expectation for everyone that defines the scope and timeline. 
The added value is that customers are actively informed and involved, and the teams work together instead of blaming each other. 
The outcome is maximum benefit for customers and the company.
Let me show you how we built a successful product release cadence at RE'FLEKT, and what we've learned from it.  
Foundation for the Product Release Cadence
In the growth phase of startups, we need speed, scalability and alignment. Since resources are limited, it helps to establish clear cadences that are transparent and clear for everyone. When building the RE'LEASE cadence, we used  David Sacks' operating cadence for Sales, Finance, Product and Marketing.
Now, what do you need to build the release cadence? Here's what we focused on:
Define a launch rhythm that fits your business – in our case a quarterly cadence
Use a launch event to educate your audience, share news and have a clear timeline
Give your (product) teams the stage to present what they've worked on
Involve your customers and partners in the cadence and launch event
Include a broader audience with analysts, media and thought leaders
The design of the individual points is different for each company. It depends on the resources, the go-to-market model and the target group. RE'FLEKT built enterprise software for manufacturers to simplify work steps using augmented reality visualization. Why built? Because the RE'FLEKT IP and brand was acquired by market leader PTC Vuforia. 
1. Product Launch Rhythm 
The cadence for launch and event should be well considered. It is not just a one-time action but a scalable model that will be developed with each iteration. What seems realistic in the initial motivation – must be feasible over a longer period of time.
Over 2 years we experimented with different variants. The main issue we faced was the timing between product and marketing. When is the release ready, when does the code freeze take place, when can marketing get their hands on the new features? The launch event needs preparation, and we took advantage of the opportunity to film on location at customers' premises in order to be able to use the material later for other purposes.
All of this can only work if there is a stable version of the software. Without a stable version, you will be left with a frustrating session at the customer instead of spoiling them with a pre-launch experience. Planning is everything.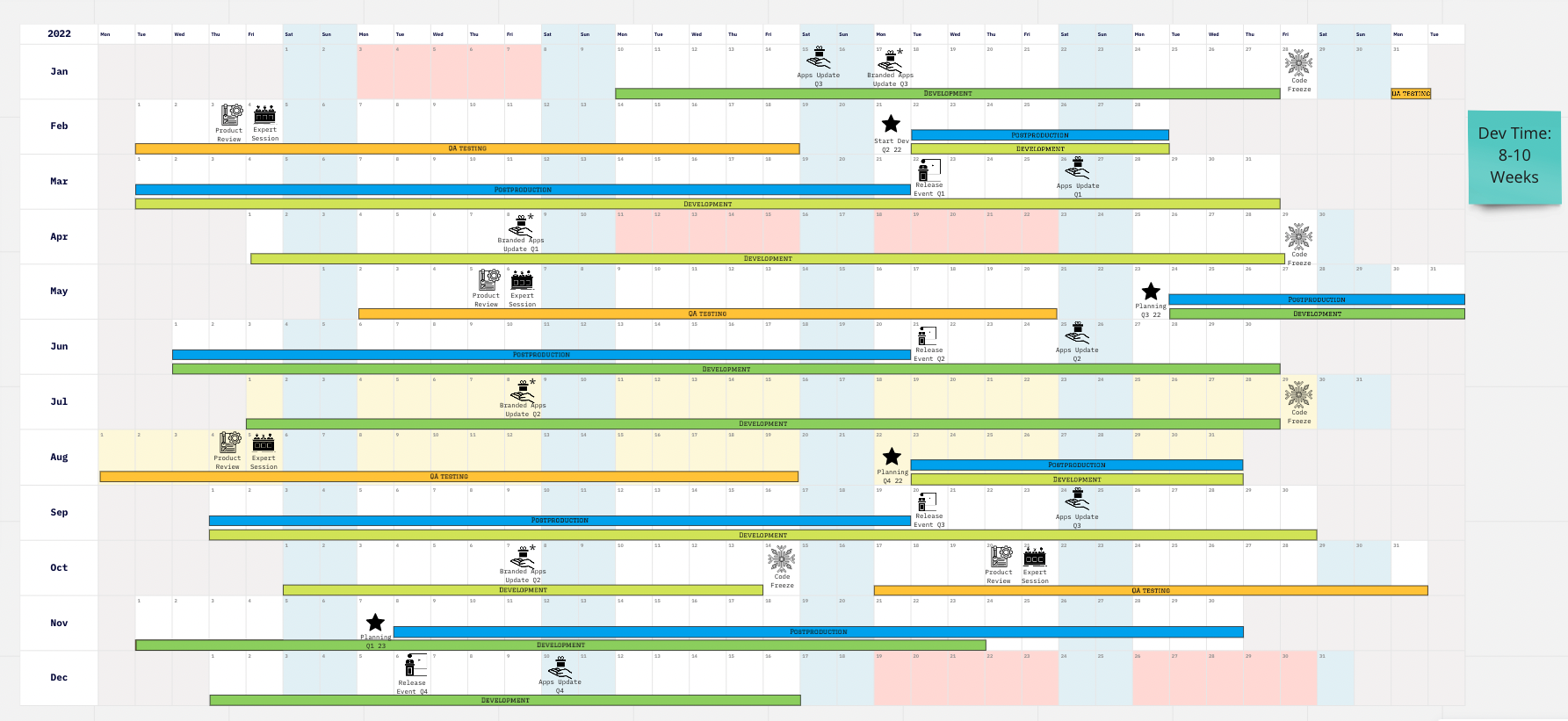 The quarterly cadence seems easy at first glance but that can quickly go the other way. What if Development does a refactoring and there is nothing "new" to show. This can be solved by bringing the launch event into different formats, which are then not only about features but a broader value discussion.
The impact of your product release cadence
But that's not all. Once you find your cadence sweet spot, you will also start to notice some other great wins.
Now that your products all release at the same time, your best customers with multiple products will begin to receive all their product updates in one hit (instead of multiple times per month). Everyone is happy about this. For starters, your product marketing teams will have the chance to work on more than just product releases each week. And the customer will be thanking you even more – finally they have an easy way to consume all updates in an expected format.
These same customers even have the chance to see what is happening in products they may not yet have – sales will thank you for that later. Oh, and don't forget the product team, they are happy to see customers adopting those cool new features they put their blood, sweat and tears into because the customer was no longer frustrated about how often you contact them about new features.
If you are a data junkie, you will notice this in your announcement campaigns. By quieting all the update release noise into a single communication each quarter (or whatever works for you), your open and click rates will quickly begin to rise. As your audience slips into the rhythm, they will attend more often and adopt new features quicker. Win/Win/Win.
2. The Launch Event
The most important thing at the launch event is to find the right mix between what marketing and product want to show and what customers and partners expect. If we were to ask sales, it would probably be features and case studies, while marketing brings value propositions and differentiators into the race.
And what do the customers want? In our RE'LEASE event we permanently asked for the mood and needs. As you can see, our audience mainly asked for news about the products themselves. As soon as the product news was reduced to a minimum and the share of customer use cases was increased, satisfaction dropped.
Here's a typical agenda from our RE'LEASE event:
10.00 – 10.15: Company & Market update, event highlights from the CEO
10.15 – 10.30: Product Intros REFLEKT Remote (2 – 3 team members showing the updates)
10.30 – 10.45: Case study presented by customer or thought leadership topic with expert
10.45 – 11.00: Product Intros REFLEKT ONE (2 – 3 team members showing the updates)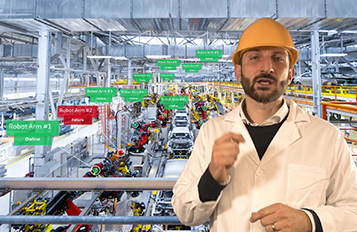 Some sessions were streamed live from our office or from customers, some were pre-recorded. Snippets from the event were later available on our Campus page and could be used by marketing and sales. These pages opened a whole new world of on-demand opportunities that could be used to create various other funnels.
The key thing to keep in mind about setting up your launch event is your purpose. You will notice sales pulling you to focus on leads, product to focus on the technical stats, management to focus on how many media mentions you have. If you focus on the primary goal of educating your audience – you will not only keep everyone happy, but business will thrive.
Show what you built and why
In the end, this is a release cadence focusing on what is new and why it is important. By simply explaining in layman's terms the core motivation of developing a new feature and how it works will:
Provide prospects with a sense of development purpose at your company 
Allow customers a consumable way to learn what is new so that they can adopt quickly 
Give media and analysts a chance to understand the complex market where lead your segment 
Align your entire company on what other teams have been working on 
3. Give your teams a stage to show what they're working on 
A common cause of frustration is that product and development teams in particular have to work in the background and let marketing and sales take the stage. Who can tell more authentic stories about their own product than those who build it?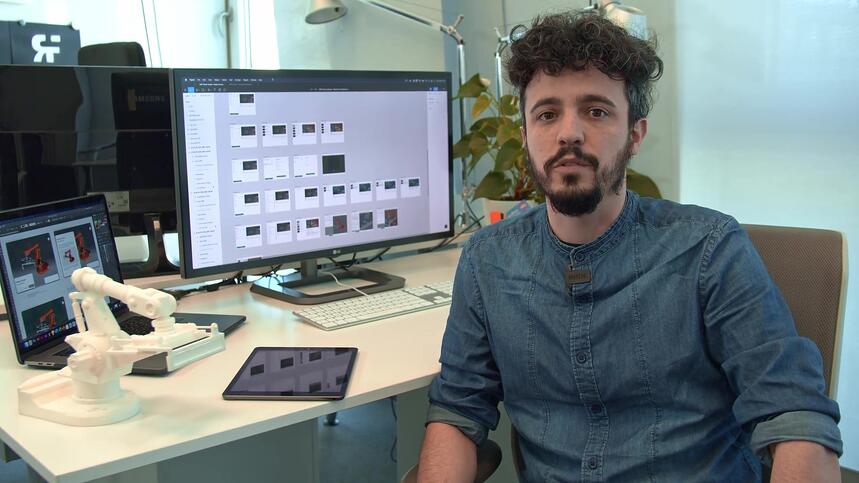 Customers get a look behind the scenes and have a face to the product. This creates trust and shows the competence of the teams. What's more, it is also motivating for employees to be involved in events with customers and partners. How often have you heard product teams asking for ways to get into contact with the customer? This is a great solution to that need and will also help your product team understand customer cases in a way that can have direct impact on your product itself.
It is important that there is a consistent story for the launch event. We had a motto for each one. This helps the teams to integrate their own themes. Our focus was always on explaining why we developed something and what it brings to the customer, not so much the technology behind it.
Of course, not everyone is prepared for an appearance on stage. For that, we prepared our teams and helped them feel confident. Alternatively, you can also form teams of two to create a safe atmosphere.
4. Involve your Customer and Partners
When customers talk about the news in the products and explain why they are important, this has a higher credibility and shows that the Voice of Customer is taken seriously. Companies are interested in learning how others use the software – especially when it comes to new technologies like Augmented Reality.
We involved our customers and partners in a variety of formats:
Explainer sessions where customers talk about the why and how of product features
Interviews and Fireside chats to look behind the scenes of the business or rollout process
Use case sessions with virtual on-site visits to show live how it works
Partner success stories related to product topics like integrations
Another example is the live surveys we conducted during the event. These were about the importance of the individual product news, the next topics on the roadmap and customer feedback. This gave us a quick gauge of where we stand and what is missing.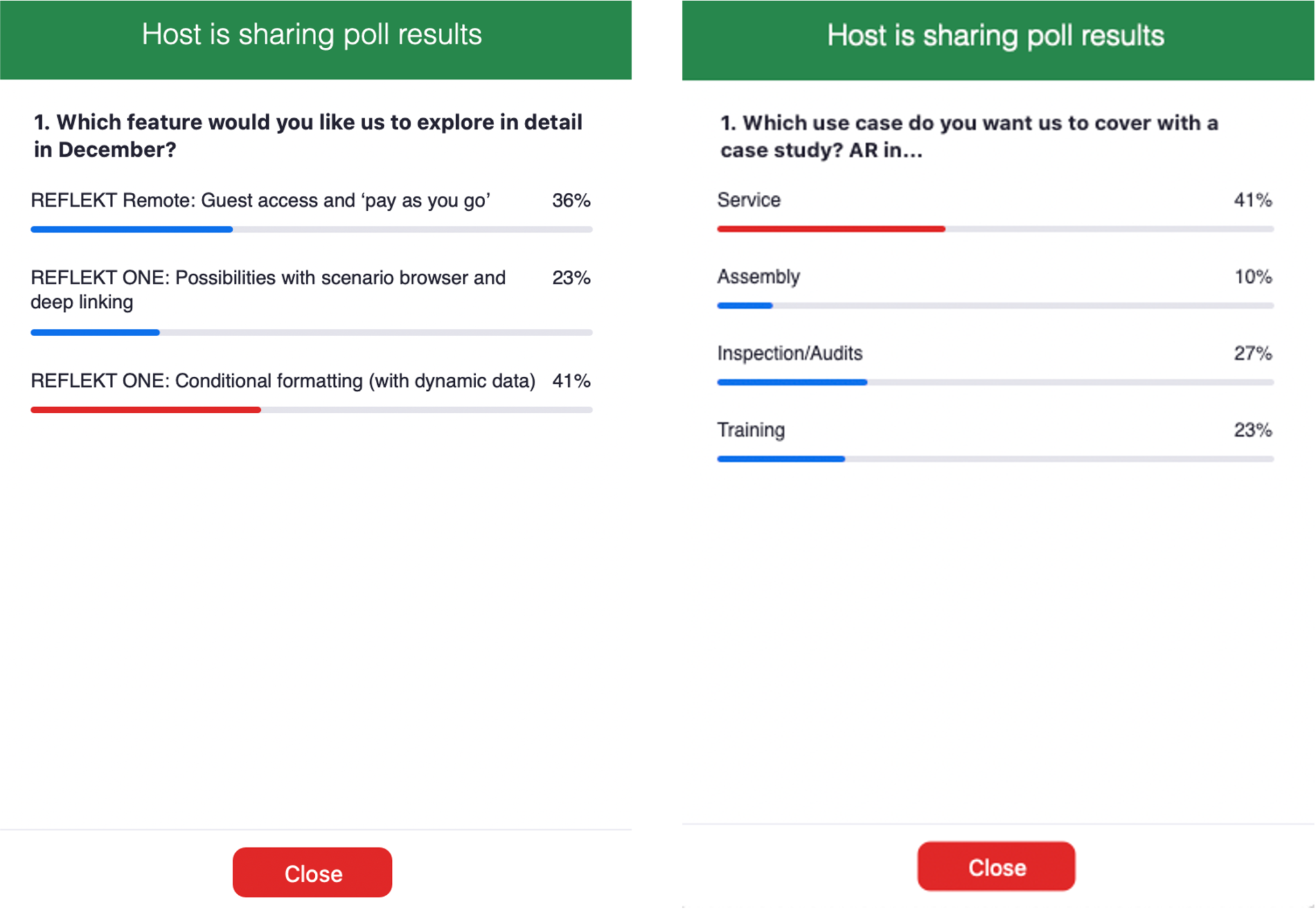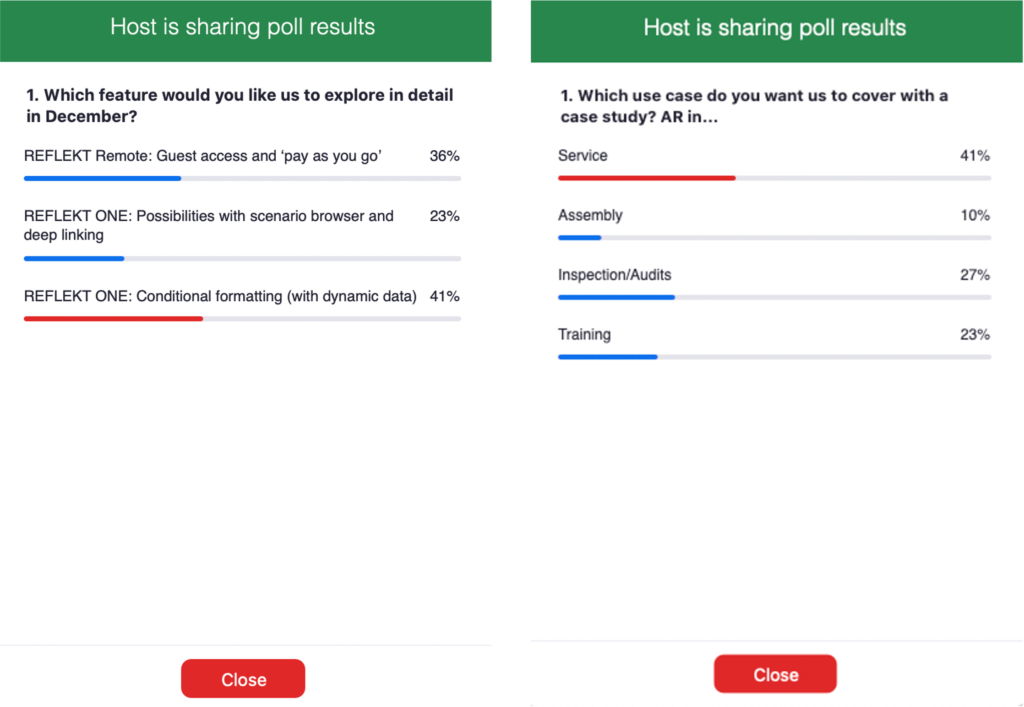 Most importantly, it created a sense of community. Rather than a simple one-way Apple style keynote presentation, surveys and live Q&A give the audience a chance to become part of the main event. These personal human connections are essential to creating a sense of community and trust amongst prospects, customers as well as media and analysts.
5. Include analysts and media
Most of the time, we just send analysts and media a press release, if anything. Analysts are looking for information to judge how they value a company in their reports. Journalists have little time to read the mountains of news and are grateful for background information. Even better, something with visuals or a short explainer video.
We have learned a lot from the analysts we work with about how they do research and what they need. We covered this in the RE'LEASE event and also offered individual break-out sessions to go into more detail on the technical topics.
Actively informing rather than waiting for the annual reports was a big learning that came out of analyst conversations. Inviting people to a quarterly event for an hour is much more effective than sending out messages that get lost in email inboxes. In addition, customers and partners are also interested in hearing the opinions of analysts. Another possibility is to involve additional target groups in the launch event.
Results from building a product release cadence
The introduction of a release cadence has an impact on several teams, which is why it is important to keep an overview. The value is clear: informed and involved customers, aligned teams, clear expectations and predictability of marketing, sales and product activities. And most importantly, no short-term "can we show this feature at an event in three weeks" actions that lead to frustration and poor quality.
Team Alignment
Product and Marketing teams are working on the same cadence
Sales can be easily integrated and benefit from early info about next quarter
Goals are aligned – it is together and not against each other 
Team members are motivated and feel connected
Win your teams as ambassadors sharing great stuff
Check out this  3-step plan to align product, marketing, customer success and sales under one umbrella topic.
Brand building and Thought leadership
Involvement of product team members shows expertise
Team members are positioned as experts and thought leaders for specific topics
Relationships between customers, partners and the teams
Perception as the leader in your category
Interest from media and analysts
Acquisition
Sales invites leads, customers AND potential customers to the launch event
ABM programs benefit from a quarterly cadence and product news
Leads in the pipeline can be nurtured by showing use cases and examples
Involved experts in the launch event help to build trust
Viral growth loops can be fueled with the cadence and event
Sales teams see what's planned for the next quarter and can share their feedback
Sales teams know exactly what is coming on the short term – no overpromising
Retention and Expansion
Multi-product customers no longer spammed with unorganized product release info
Customers are involved and more active
Platform for customers triggers more feedback 
Customer advocacy is shown in the launch event
Leads, partners and customers learn what they can do with the products
Event increases up-sell and cross-sell potential for sales
Predictable product launches help to reduce churn 
Customers given glimpse into new cross or upsell offerings
Customer and Partner satisfaction
Customers and partners know about the recent feature releases 
Involved customers are less likely to churn
Customers see who else is there 
Customers and partners meet the teams and get connected
Customers able to use content to drum up awareness in their organization
Summary
What should be standard in any SaaS company – and is a fixed part of any startup strategy in Silicon Valley – is often not seen as elementary. The success of the product release cadence is based on a close collaboration between product, growth and marketing teams.
Instead of working side by side without coordination, a predictable and customer-centric cadence turns your company into a well-oiled release machine.
---
Follow me on LinkedIn and Twitter.
Dirk Schart is Director Growth & Marketing of PTC's Vuforia suite and former CMO of the No. 1 Enterprise AR startup RE'FLEKT. He is a brand and growth leader and focuses on bringing B2B software and SaaS products to market —from zero to hero. Dirk is the former Director of SaaS Products at HyperloopTT, and helped scale SkyWork from 30 to 200+ in less than 18 months. He mentors startups at the German Accelerator in Silicon Valley and is the author of "Augmented Reality for Marketing".