How can you get access to almost unlimited knowledge? Why is it essential to meet founders who have done it before? What is that mindset thing everyone is talking about in the Valley?
In this article, I will share my experiences about the 'Learn & Share' mindset and why it is beneficial to build a business and bring early-stage tech products to the market—with examples from meetings with founders, advisors, and investors.
Here's my background. I am the Chief Marketing Officer and President of REFLEKT Inc., the US entity of the Munich-founded tech startup simplifying industrial maintenance, operations, and training with Augmented Reality. I started building our US business out of Sunnyvale in the Bay Area and turned it from zero to a recognized player within one year. In that year, I had the chance to learn from founders and advisors who have built several startups and who understand what it means to fail and learn. These meetings motivated me to share what I have learned and why I believe there is no better place to learn so much in such a short time.
How can you learn in Silicon Valley?
One way is to start watching HBO's Silicon Valley series. Seriously! This way, you don't even need to come here. Frankly spoken, what Richard & Co. showed in the six seasons about the tech industry is not that far away from reality. If you do make it to the Valley, though, I highly recommend you to book a tour where you get an express ride through one of the big accelerators. Every day at Plug & Play, I see massive groups walking through the building where we have our office. Plug & Play is the biggest accelerator with over 50,000 visitors from 15 different countries per year during the tours and events. Once you see the companies and startups involved, you realize that you don't even need to leave your office to build a massive network.
The 'where' you can learn is one thing. The 'how' and 'why' you can learn is the fascinating part for me. What is often separates The Valley from other places is the growth mindset. But, the mindset alone doesn't make a place special—that's true. There's much more than the obvious phrase: in the Valley, you rather get a "Yes" instead of a "No" when you come up with a crazy idea – which is something I like to do. Here are my three reasons why this area is so interesting and why you can learn faster and more (about the startup and tech world):
A very high number of founders, advisors, VCs involved in tech and startups,
All accessible within 50 miles between San Francisco and Santa Cruz
People are eager to share their experiences, learnings, and failures.,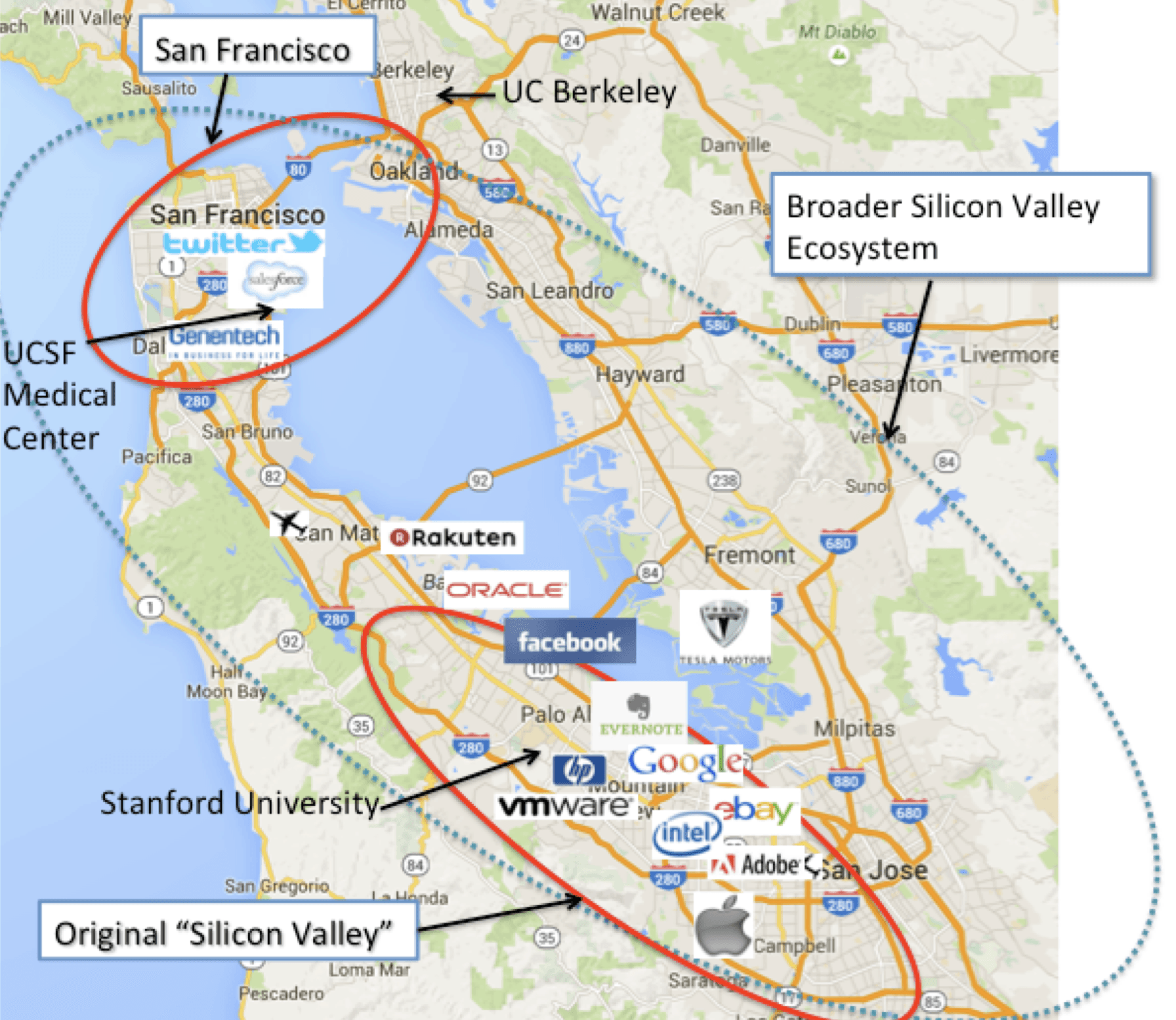 How to get access to unlimited resources
1. Get a place where you can network and find your customers.
You must connect to customers/buyers, other founders, advisors, or investors, and therefore you must choose the right office space. Well, office space doesn't necessarily mean the same as it does for other cities or regions. Since most of the meetings I have are at coffee hotspots or our office terrace, I barely see a conference room because people want to meet in a more collaborative environment.
Office spaces are more the place where you network and meet people during events. You can either book a place like WeWork, where you will meet a bunch of other startups or something like Plug & Play (PnP) or the German Accelerator (GA). While WeWork is a super cool office space with access to a lot of perks, places like PnP and GA are accelerators where experienced serial founders, mentors, and investors go in and out all the time. The chance to meet interesting people and connect with them is much higher than in normal office spaces.
If you choose the right space, you not only have access to a huge network, but you have the chance to get in contact with potential customers and startup people. And yes, you can meet your customers at Starbucks and even give some live demos there and test your product too 😀
2. Leave the office and meet people
All startup founders and teams know that it is essential to go out and meet customers and partners. Between San Francisco and San Jose, you will find endless possibilities to connect to networks in different fields and industries. I also quickly discovered that in the Bay Area there are many more B2B contacts than you would expect.
The obvious sources for finding good networking opportunities are Meetup groups or the accelerator and co-working spaces event calendars. Plug & Play has events every Friday, The Vault in San Francisco has smaller events several times a week, and the German Accelerator has the well-known demo day 'Captivate' at Hana House in Palo Alto.
My favorite source for a lot of events is Gary's Guide—a bi-weekly newsletter with events and announcements in the Bay Area. If you are interested in a variety of topics from go-to-market to Intellectual Property and finance, the events from Access Silicon Valley organized by Roger Rappaport are also great. Another great source where I have met some exceptional speakers from very successful startups is the Growth Marketing Speaker series from Skipcard founder Javid Jamae. You can even sign up for a monthly event subscription with Brunchwork where you can meet startup people talking about different topics.
And there are even more events that are simply not listed anywhere because they are 'Invite Only'. It will take you some time, but the more people you meet the easier it'll be to get invited and involved.
3. Don't be shy! Ask for failures and learnings
Now, let's get to the important stuff! How can you get access to knowledge and experience?
I actually know both sides—the startup side in my current role as CMO and President as well as the advisor side. From my experience on both sides, I have quickly learned that every startup is different. You will soon learn that every founding team makes mistakes and that these failures are the most significant times to learn. Most people don't like to talk about their failures—and this is the most noticeable difference between the Valley and anywhere else…talking about failures is absolutely normal.
It is hard to describe, but when I am talking to people who have done that journey several times, there is always a learning, different perspective, feedback, or an idea. Our startup RE'FLEKT is in the (European) market since 2012, and we started the US operations beginning of 2019. A new market brings new challenges—this means you have to be open-minded and question your strategy permanently.
When I look back at some of the conversations I had with one of my mentors, Tom Rice, he'd always give me feedback with little stories from other startups he had advised. Tom was one of our mentors during our time in the German Accelerator program in 2017, and he is still one of the people I respect most. From the first day when I started the US adventure, Tom helped me to make the right decisions. From strategy to business models, from the right verticals to the sales strategy. I am always leaving our meetings with the feeling that I have a better understanding to make a decision—whether my ideas were good or maybe not that great.
An excellent example of how you can learn and get feedback is my connection with Mickey Alon, CTO of Gainsight PX. I met Mickey at one of the Skipcard events I mentioned earlier. He was one of the speakers talking about growth strategies. Mickey founded several companies and was with Marketo before the marketing automation software sold to Adobe for 4 billion US-Dollars. In the following weeks, we have met to chat about market opportunities and defining new markets (especially since I didn't want to use these hyped AR projections anymore). Mickey shared his view on how to use different approaches to define new markets with a focus on growing sectors. In the European enterprise verticals, we focused a lot on cost-cutting, saving money and time. In contrast, Mickey focused more on the industries willing to grow, defining differentiators, and improving customer satisfaction. Don't miss his slides about "Product-led Growth"!
4. Learn in the land of marketing and sales
If you want to understand how to market and sell products in the US and how vastly different this is to Europe—just listen to some radio advertisements. There is always a clear focus on customer needs, experience, and satisfaction. "Why does it matter? What's in for me?" are always in focus. Storytelling is key. Customer experience is a must-have.
Companies like Salesforce and Oracle, which changed entire industries, were successful because they had great products at launch in combination with incredibly good marketing—thanks to founders and CEOs who understood the value and importance of both. So, forget these posts about startups with great products not needing marketing…it is a myth.
When we came up with our vision of building the Operating System for Enterprise AR, we had discussions and concerns about whether this idea is big or too big or even a stupid idea. Around this time, I read the book "Traversing the Traction Gap", and was lucky enough to meet the author, Bruce Cleveland, to challenge our thoughts. Bruce is a very experienced VC at Wildcat and held several leading roles at Apple, Oracle, and Siebel Systems. I feel privileged to have had the chance to pitch our vision, and I was interested in Bruce's opinions—mainly because showing a big vision in Europe and in The Valley are two different things. Bruce's focus was on building thought leadership and becoming an expert in your space. This is exactly how we built RE'FLEKT when we first started – by becoming experts for the Augmented Workspace. The conversation with Bruce helped me a lot to connect the dots but also to show the value of thought leadership and market engineering to our teams.
There are many more people I can mention here. Thanks to the great events from Roger Rappaport, I met with John Rizzo, who helped numerous startups with their go-to-market strategies. It took me a while to go through all my notes and John's slides (which are worth their own article), but in the end, I could structure our go-to-market much better. My key learning was how to size the product to get the first customers, in our case, for our new US location. In early-stage tech, managers don't decide to sign 100K deals quickly before knowing whether a new tech is sustainable or just another gadget—and for tech companies, renewals are more important than the deal size.
Another part of my role is to make sure we have visibility, get awareness in our key verticals, and create the right content to reach that. And if you're a small team, it is almost impossible to follow up on everything you need to do. My sessions with Kevin Indig (get his fresh ideas) who holds the role of a VP for SEO and Content at G2 after he built up the SEO activities for Atlassian, let me understand what's going on. Kevin and I met through the German Accelerator and meanwhile, we are quite connected. I still remember our first session, where, in his uniquely polite way, he discovered a bunch of things to improve. He taught us the right mix between content and SEO activities and is still advising our team. These essential relationships are genuinely unique. Where else but The Valley can you and your team learn from people who have seen many other startups succeeding or failing?
5. Don't reinvent—keep your eyes open and learn from what you see
I could (and probably will) write an entire article about how you can learn from the history of Silicon Valley. But first, I would like to share a couple of thoughts on how I use the learnings from existing Valley companies – and this is even something you can do without being here in the Bay Area.
One of my US team members once asked me if I had seen the Oracle offices, as I lived close to the Redwood City HQ when I first started. For me, Oracle was a dinosaur—old and boring. I went to Redwood Shores and saw these buildings shaped like classic databases with a lake in front—and of course, Larry Ellison's America's Cup sailing boat docked in the middle. I started reading more about how Larry built the company and could see many parallels between our early AR market and the completely new market of relational databases at the time.
I started searching for more examples, and there are many in the Valley you can learn from. Salesforce is probably one of the best role models for changing an entire industry. Marc Benioff, in his own right, is an inspiring leader aware of the potential of marketing, branding, and PR. This showed me that sometimes you have to believe in your ideas and push them, even before you have managed to convince everybody else…as not everyone can see the same in a vision.
Food for Thought
Whenever I need inspiration, I spend time at the Computer History Museum. If you ever come to the Valley, I highly recommend a visit. It is such a unique place that shows you not only how it all started, but many of the things that simply disappeared. Every time I visit, I find a lot of learnings in how others built successful companies and products as well as through the scrutinization of the many disappearing acts.
Or, if you want to get networking straight away, Steve Blank has a great Visitor's Guide listing places where you can find the people. Now, enough said, go and leave your office to meet your future network and customers.
---
Follow me on LinkedIn or Twitter where I share my thoughts around how to build and market tech products.
Dirk Schart is CMO and President of the Augmented Reality startup RE'FLEKT. His focus is on B2B enterprise software and SaaS models with early-stage technologies like AR, AI, IoT—from market engineering to thought leadership and go-to-market. Dirk is a startup mentor at the German Accelerator in the Silicon Valley and author of two books about Augmented Reality.